We are glad to introduce you Gristle Tattoo – vegan tattoo studio from New York! Dina DiCenso, the owner of the studio, shared with us shop's founding history, told about the Gristle family, tattoo fundraisers, animal adoption events and art shows that are organized regularly by Gristle.

" Tattoos are a great way to promote cruelty free living and bring awareness to animal equality issues."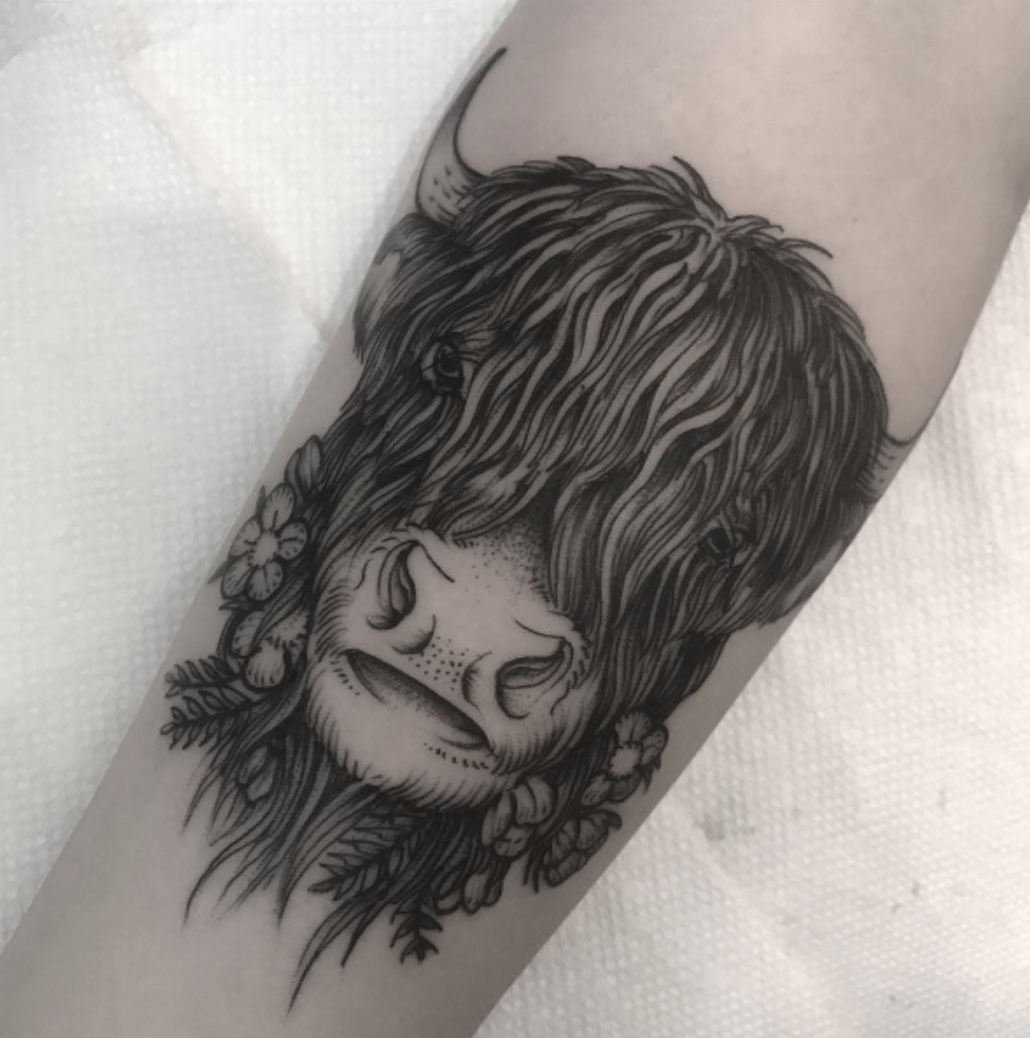 How did your studio start its route?
Since I'm vegan, I opened Gristle Tattoo as a vegan studio.  Tattoos are a great way to promote cruelty-free living and bring awareness to animal equality issues – we have tattoo fundraisers, animal adoption events and art show to promote awareness.  I've even had the chance to contribute in a way I never really considered – soon after opening I read a post online about how to stencil paper wasn't vegan but nobody seemed sure as to what made it not vegan and of course, there were conflicting posts with some people stating it is vegan.  I contacted the company myself but they only had an email address, no phone since they're a small privately held company that isn't obligated to have that info out there.  After not hearing from them for weeks I had my geneticist friend test the paper to see what made it not vegan and the test came back as lanolin.  I finally heard back from them and they confirmed it was lanolin – they used it to make the ink stick to the plastic sheet.  After some friendly nagging, they found a new chemist – their original chemist had retired 10 years earlier – and they made a vegan stencil paper!  And the vegan stencil paper just happens to be a better quality product too since it stays on longer.  There's an opportunity to remove cruelty from products in every industry and it's up to the general public to take every opportunity they can to demonstrate to businesses that there is a demand for cruelty-free products so they have an incentive to change for the better.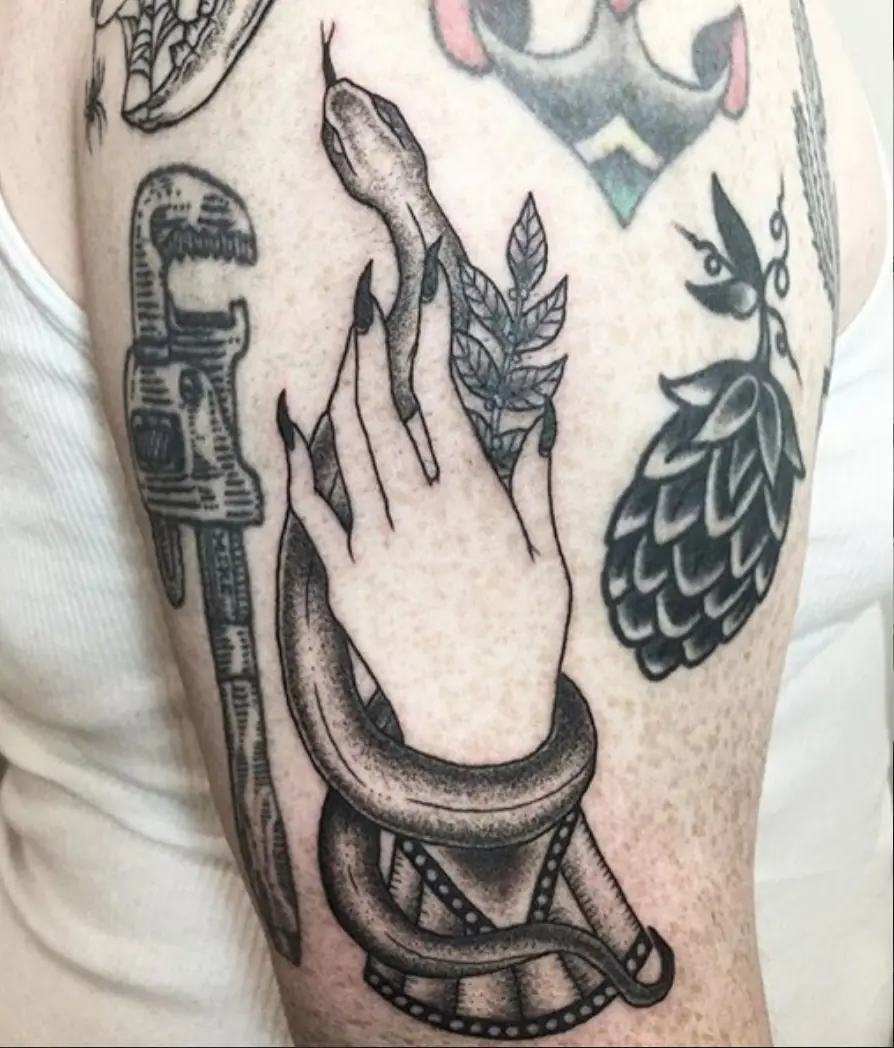 Could you tell us about the Gristle family? Which artists work there?
We have resident artists as well as guests from all over the world.  Resident artists Kalatu and Ligia have been resident artists for about 2 years.
Henbo has been visiting us for years but decided earlier this year to live in NYC for a while.  Emrah, Baris, and Victoria joined us earlier this year.
And finally, Dana was our apprentice but is now a first-year tattooer.  Although not all of the artists are vegan, they all appreciate and respect it.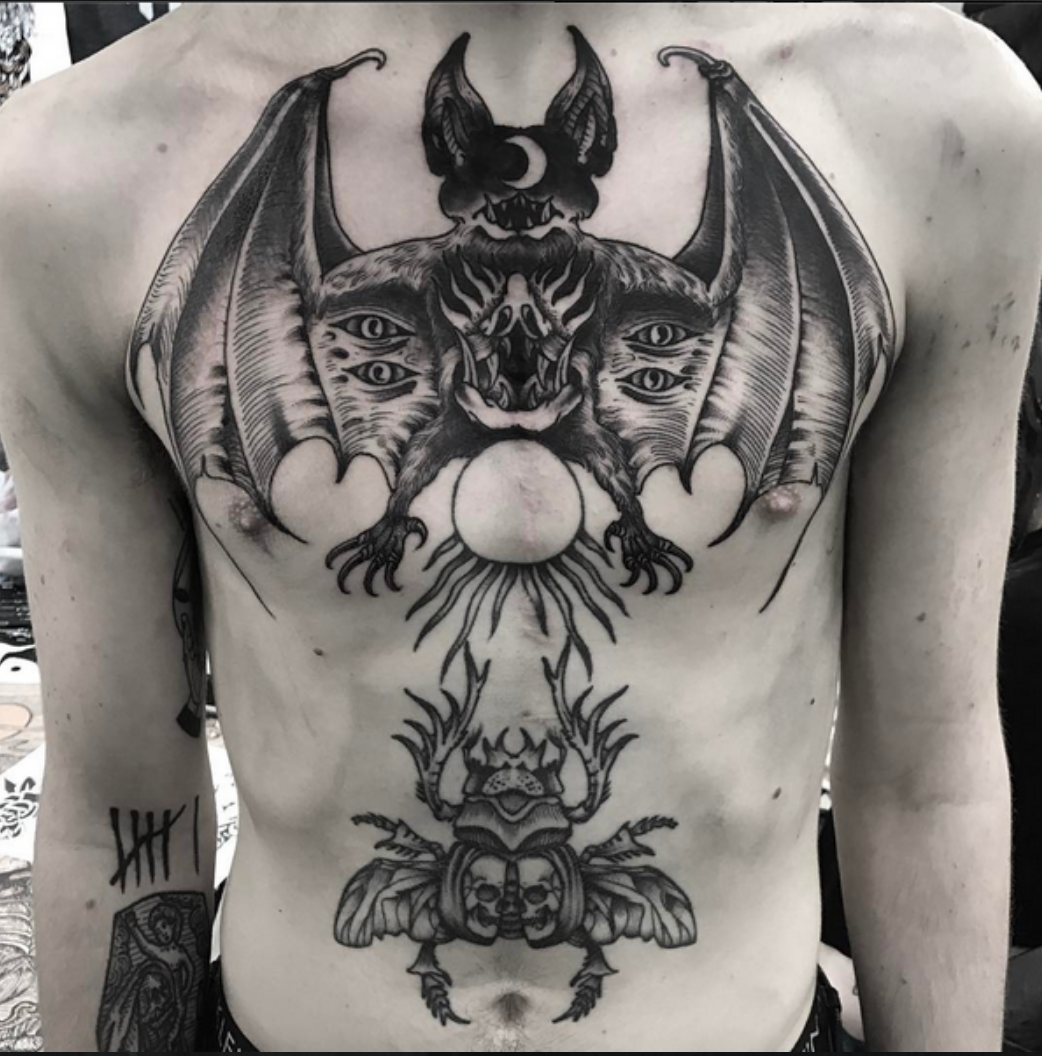 What styles do your artists prefer to work with?
Our artists can do blackwork and color but generally prefer to do blackwork since it ages well.  Henbo and Baris really enjoy doing color.  Especially Baris since he does watercolor tattoos.  Kalatu's style is woodcut. Henbo has an illustrative style. Emrah and Baris have a geometric style often incorporating realism.  Baris also does watercolor tattoos.  Ligia and Victoria do delicate, fine line work.  Dana has a traditional-inspired occult style.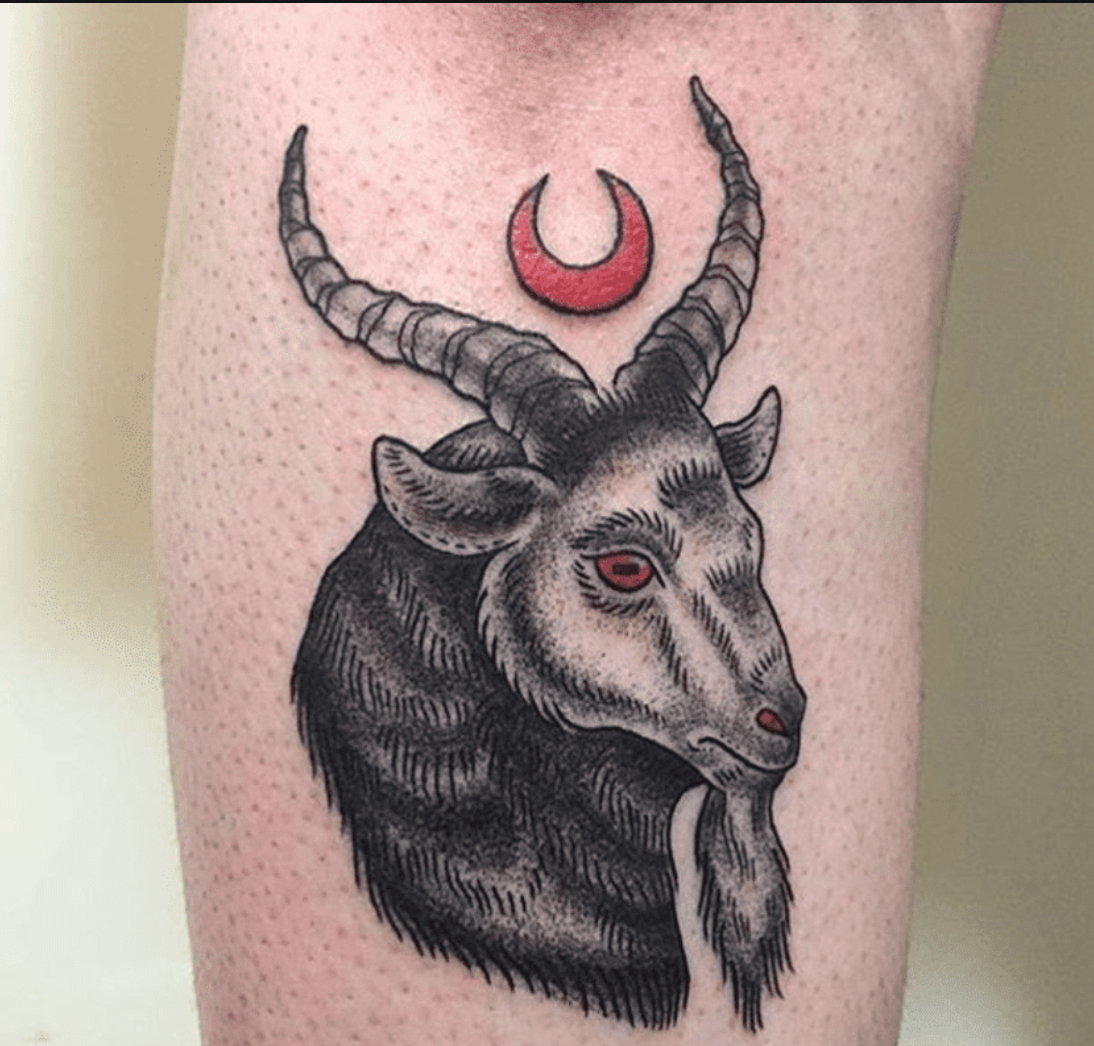 We know that you held community events such as pet adoption events.  Could you tell us more about that? How is it going?
We try to do several tattoo fundraising events every year for small rescues that are in desperate need of money.  We typically do one for wildlife such as the Wolf Conservation Center and then a few for cats/dogs (e.g., Right Meow Rescue, North Brooklyn Cats, BARC and Bradford TNR) and farm animals (e.g., Woodstock Farm Sanctuary, Skylands Animal Sanctuary & Rescue).  When the weather is warmer we have adoption events at the shop.  We're also active in the community through fostering, rescuing and other activist activities.  We've even had art shows to increase awareness, such as the Unicorn show which brought awareness to Saolas.  It definitely helps bring awareness to some of these smaller groups' activities which may otherwise go unnoticed.  Another example is the annual Kaporos slaughtering.  It's a horrific annual slaughtering of about 60,000 chickens over 3 days in Brooklyn by the orthodox Jewish community.  Most people are unaware of the horror show going on in their backyard – we've helped educate the community and aid the activists who do the really difficult work of rescuing and recovering the injured and abused chickens.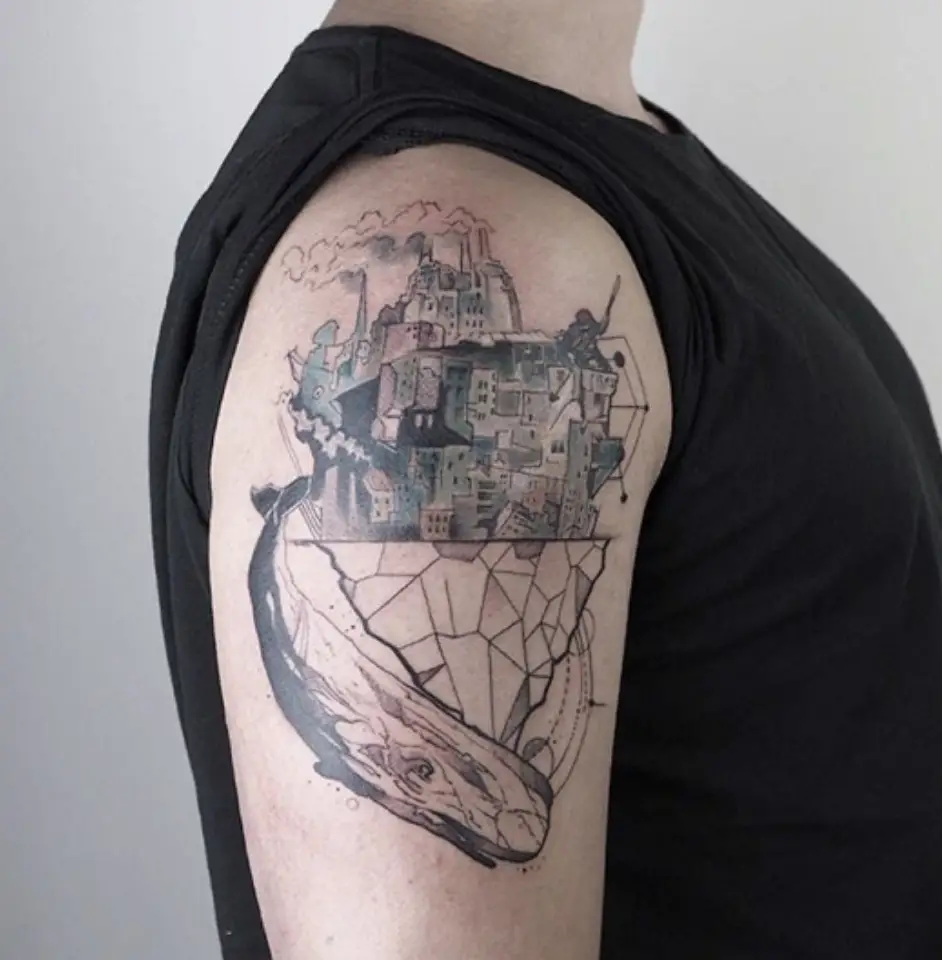 Could you give advice to those artists who want to make a switch to vegan-friendly tattooing?
To any artist wanting to make the switch, a vegan tattoo is more than just vegan ink. It's ink and ointment, soap, stencil paper, and razors.  And most importantly – vegan tattoo products aren't just for vegans – every non-vegan tattooer should be using all vegan products too since the products are of higher quality than the non-vegan ones and don't cost more.  Most carnivores I've met have been grossed out by the thought of putting animal bone char, lanolin or animal glycerine under their skin.  At least if they regret the tattoo in the future, they will never regret not hurting animals for it.